Airbrush Tattoos
AIRBRUSH TATTOOS PARTY ENTERTAINMENT
Airbrush tattoos or temporary tattoos are a great way to add extra excitement to any party or event. San Dieg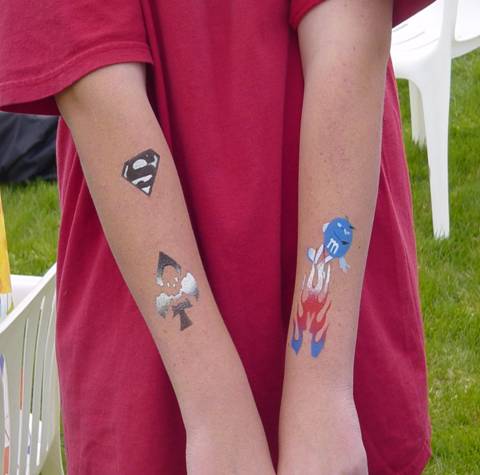 o Kids Party Rentals not only has a wide selection of Airbrush Tattoos but can also custom design almost any idea, character, or company logo of your choice. The airbrush tattoo is also much faster to apply than hand drawn face painting. Most artist can get through 30-40 tattoos in an hour which makes this the perfect activity at a large event. The tattoos will last roughly 3-4 days, but can easily be removed with soap and water if so desired.
Check out our selections of airbrush tattoos below or email us your idea or logo and we can let you know if it would work for your party. Airbrushing company logos is a great way to promote your company at company picnics or conventions.
Sorry, this item is not available either because the particular order options (customer pickup) are not available for this item or because the date and/or time you have selected are not available. If you have any questions, please call our office at 858-560-2700...