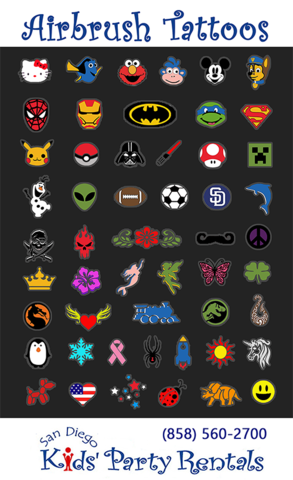 Airbrush Tattoo Artist
Airbrush Tattoos have become the new party "standard" in face painting, and are great for events both, large and small, and for kids and adults of all ages.
Our newly updated display boards offer over fifty choices of artwork (from super hero logos, to popular cartoon charaters, to butterflies and dragons), to appeal to everyone! The multi-layered stenciling system ensures that each painting looks exactly as it does on the display board, and that every child gets just what they ask for.
Fast, clean, fun, this service is perfect for any event! Just make sure you plan for extra time-- the adults always want to jump in line, too!
Looking for something more specific?! We can create custom stencils for your school, business, or private home event! Custom stencils are $75/each. We've recreated logos for RedBull, CBS, Domino's Pizza, and more!
The paint used for the Airbrush Tattoos is specially designed for temporary tattoos and is non-toxic and completely washable with soap and water. If cared for properly, the tattoos can last up to five days.