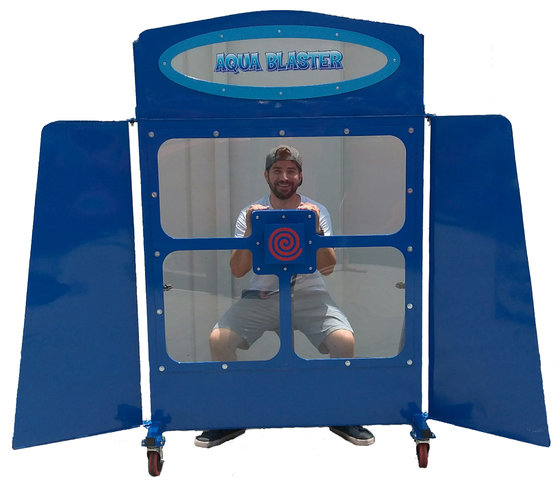 Includes up to a 3 day rental (72Hours)
Say good-bye to the old school dunk tank and "hello" to the Aqua Blaster!
The Aqua Blaster works the same as a dunk tank in that one person throws a ball into the target and if successful, the other person gets soaked! Instead of dropping someone into a tank of water, the Aqua Blaster uses a sophisticated system of hoses to spray the person so that he or she gets totally wet and has the same element of surprise when the hoses let loose. And, boy do those hoses let loose!!


Aqua Blaster Advantages:
Fresh water is used, not water that sits all day and fills with grass/dirt

The Aqua Blaster uses only 30 to 40 gallons of water, as compared with 350 to 500 gallons in a traditional dunk tank and you don't have to worry about drenching your yard with so much water at the end of the event.

Child-friendly in that children of any age and height can be the ones to get wet because you don't have to worry about them being in a large tank of water

The person waiting to get soaked sits behind a screen, which protects him/her from any "mis-thrown" balls

Handicapped accessible so that people in wheel chairs can also be the one to get soaked