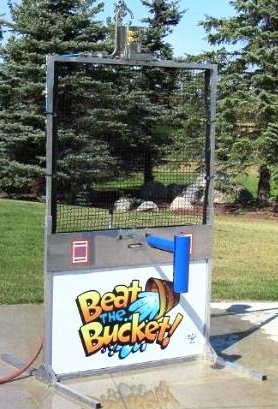 Beat the Bucket- a Dunk Tank Alternative
Beat the Bucket is the industry's only "Dunkee Defendable" dunk tank alternative on the market!
Find a challenger and get ready for some wet and wild fun! Beat the Bucket has the same end-game concept as the traditional dunk tank-- sucessfully throw a ball at a target and get the "dunkee" wet! The twist is the "dunkee" now has the opportunity to defend him/herself with the rotating deflector arm!
Please note the game requires to be hooked up to a garden hose and to an electrical outlet, and for that reason, cannot be delivered to a park.
Check Out the Video to See the Fun in Action!


It's as Much fun as a Spectator as It Is to Play!
Book Online or Give us a call at (858) 560-2700 and book Beat the Bucket Today!