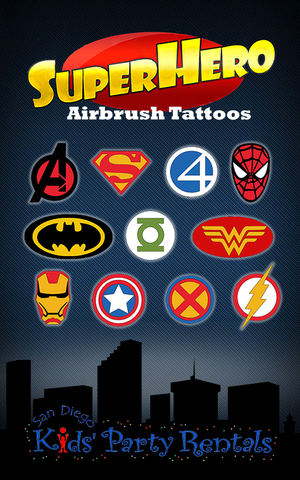 Classic Superhero Airbrush Tattoo Artist
Classic Super Hero Themed Airbrush Tattoos
Your kids will think you're the super hero when you book the Classic Super Hero themed Airbrush Tattoos for their next party or event! Our custom themed stencils are all created in-house and you won't find them anywhere else!
The Super Hero Themed Airbrush kit includes the following designs: Superman, Spiderman, Ironman, Batman, the Fantastic Four logo, the Avengers logo, the X-Men logo, the Green Lantern, Wonder Woman, Captain America, and the Flash.
Airbrush Tattoos are all the rage these days, as application is quick and easy, allowing your party go-ers to get multiple designs on their cheeks, arms, and legs. The tattoos will last approximately 3-7 days if cared for properly. To remove, simply scrub with water and soap.