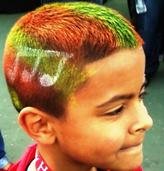 Colorful Hair Painting
C
o
l
o
r
f
u
l
H
a
i
r
P
a
i
n
t
i
n
g
We supply the tent, the signage, the crazy colors and the artists--you supply the heads!
Our hair painting booth brings a whole new look to any event! One shampoo washes it all away, but the paint dries completely for hours of fun!
Typically, we can paint up to 50 heads per hour and we can combine this with balloon twisting for unique animals, hats, swords, or other fun balloon designs.