Conk The Crow Carnival Game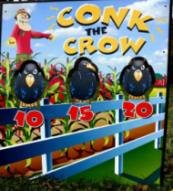 Includes up to a 4 day rental
Conk the Crow Carnival Game for Customer Pick Up
We've offered the "Conk the Crow" carnival game for years, but it has been so popular that we upgraded to this new 7-foot by 7-foot frame-game version. Kids will love this new, study and colorful version even more!!
The"Conk the Crow" carnival game is perfect for the little ones! Kids love to throw the bean bags to knock down the crows sitting on the farmer's fence -- each with different point values (10, 15, or 20) for heated competition. The crows are on hinges and when they're hit, they swivel to a down position. The crows can easily be returned to their upright position on the fence for the next eager young player!
This will be sure to be a favorite at any school, church, company, or back-yard carnival event and works great with an farm or fall festival.