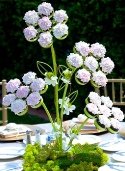 Cupcake Stand Flower Shaped
Actual Size: Base: 12" W x 12" L x 30" H Petals Spread to 14" wide




Flower-Shaped Cupcake Stand
This cupcake stand in the shape of a flower bouquet with four, 14-inch flowers that each hold six cupcakes can be as elegant or a playful as you choose based on what type of cupcakes you decide to include.

You might also opt to decorate the flower-shaped cupcake stand by adding a real flower in the center of the cupcakes or decorate around the lime green base with other flowers or decorations that relate to your specific party theme or occasion.
Each Flower-Shaped Cupcake Stand holds 24 cupcakes, which means your can easily combine multiple stands for a fabulous table centerpiece or decoration on a dessert buffet for a larger party or event.
For suggestions on cupcake and cake bakeries and specialty shops in San Diego, please click on the list prepared by the
The Mom's Guide to San Diego