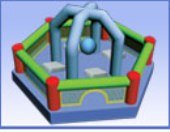 Demolition Wrecking Ball
Actual Size: 29' L x 29' W x 15' H
Setup Area: 32'L x 31'W x 16'H
Outlets: 1




The inflatable Demolition Ball or Wrecking Ball Action Game will be great fun for kids of all ages at your next party or event. Four players can play at once and the challenge is to be the last one standing as each player stands on an inflatable pedestal and pushes the swinging demolition ball to try and knock off the other opponents. The Demolition Ball action game can also be rented with an orange pumpkin or jack o' lantern as the ball for Halloween parties or with Santa Claus graphics for Christmas holiday parties.
Demolition Wrecking Ball Action Game
Will You Be The Last One Standing?
This inflatable wrecking ball will be the new standard in kids party fun! The kids stand on the blue inflatable pedestals and swing the "wrecking ball" or "demolition ball" to their friends on the three other inflatable pedestals and try to knock them off. The last one standing -- wins!! The "wrecking ball" is inflatable and suspends on a cord that is the perfect length to just reach each of the pedestals and while it is soft, when combined with the instability of the inflatable mound, it can certainly cause some fun "crashes" onto the inflatable base!
The Demolition Ball can be played with up to 4 players at a time.
Children under 5 years old may be too small to play.
Check out the
Video
for more details.
Requirements: The set-up location for this inflatable Demolition Ball inflatable, interactive game must be relatively flat, large enough to accommodate the Demolition Ball Inflatable Game with at least 2 feet on all sides and clear of trees and overhead wires, within 100 feet of a standard electrical power source, and accessible via a minimum of a 3-foot wide space from the driveway/street. If you're planning to hold your event at a park or recreation area, you likely will need a generator to provide the power source and the appropriate permits. Rental price includes a trained attendant to act as a "referee" at the event. Scroll below to check availability and book the inflatable Demolition Ball Inflatable Interactive Game for your next party or event!
Be sure to request the "Pumpkin Ball"
for Halloween or Fall Festival events and/or our Santa Claus Christmas Theme Ball for winter events!