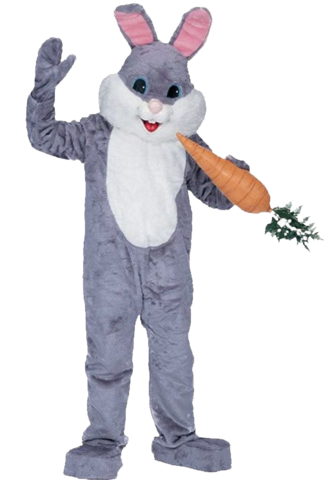 Easter Bunny Costume Rental




Please call to reserve this item

Easter Bunny Costume Rental
This adorable gray Easter Bunny costume is available for rent-- all you need to do is supply the entertainer inside! If your event is over the weekend, you may come pick up the costume rental the Friday before your event and return it the following Monday for no additional charge. If your event is during the week, you may come pick up the rental the day before and return it the day after.
Included in the rental is the mascot bunny head, a full fur suit with a zipper back, two gloves, and two shoe covers for his feet. The costume will fit any average size adult. Please be careful to have the Easter Bunny stay away from any dirt, mud, and wet grass. We'll clean the costume upon return but please note if there is any additional cleaning needed beyond a gentle wash, a dry-cleaning fee may apply.
Rent the cute carrot prop for an additional $20.
Questions? Call us at (858) 560-2700.