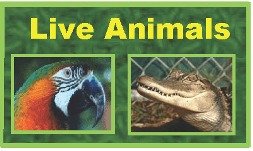 Exotic Animal Show




$450.00

Please call to reserve this item

Exotic Live Animal Show
If you're looking for a unique and educational addition to your child's party or school event -- look no further. This Exotic Animal Show is the perfect solution!
Each show lasts 45 to 60 minutes and includes degreed professionals who are experienced in educating children and guests, as well as handling and training a diverse group of animal species. The professional animal Keeper/Educator will present each animal and information in a hands-on, fun, and educational format. The birthday child acts as the "Junior Zookeeper" and gets to do everything first!
You can choose live animals that will entertain and educate the birthday child and guests. Tickle the feet of a giant millipede or stroke the scales of a 12-foot python while learning the importance of these animals in their environment. It's like having the zoo come to you!
Exotic Animal Show- $450
(If you are expecting more than 50 kids, there is an additional $70 fee for an additonal animal trainer to help run the show)
We feature two party options:
Animal Adventure - an array of 6-8 of the following types of animals: reptiles, amphibians, aracnids, insects, etc.
Walk On the Wildside - 5 or 6 different animals from all over the world, such as an alligator, millipedes, South American kinkajou (looks like a monkey), opossum, python, hedgehog, etc. Three of the animals are likely to be cold-blooded. See below for photos of some of the animals that we can bring to your party.
To Inquire about Booking, Call (858) 560-2700