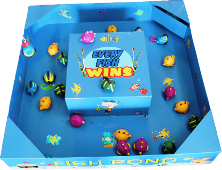 Fish Pond Carnival Game
The Fish Pond Carnival Game rental is a classic for any carnival themed party. Great for the little ones to try their hand at catching toy fish, it also helps with hand-eye coordination. With the easy and safe to use fishing poles the little ones can work to catch as many fish as they can in the allotted time. A colorful and fun experience to make your fundraising event or school party the talk of the town. It is sure to be a favorite among your guests and party goers.
The fish pond does require a water source and an electricity source. Once plugged in the pump will push the water sending the fish swimming around the cute blue metal tank. This carnival game is a great addition to an Under the Sea or Luau themed party.