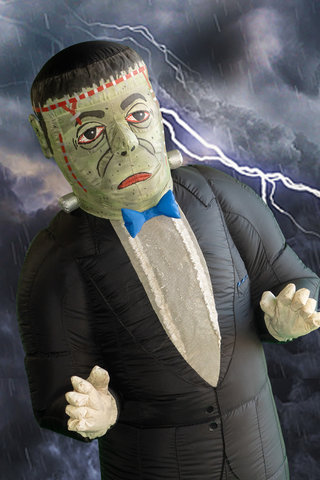 Frankie the Giant Inflatable Monster
"Frankie" the Giant Inflatable Monster Character
This Frankenstein look-alike, is not just for Halloween! Frankie likes to party all year round and definitely adds a bit of excitement to any party and brings Monster Fun!
Simply put someone inside the costume to greet people at the entry to your Halloween party to add extra animation to your event. The costume allows for him to walk around, move his hands, shake his head, wave, and more! The costume rental comes complete with the 8' costume with a zipper back and 2 batteries and battery charger to keep Frankie going all day.

Costume is a one-size-fits all and will work with any average sized adult inside. Kids are not large enough to operate the costume.

If your event is over the weekend, you may come pick up the rental on the Friday before your event and return the following Monday for no additional charge. If your event is during the week, you may pick up the day before and return the day after.

Questions? Call us at (858) 560-2700