Gone Fishing Carnival Game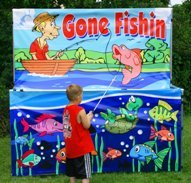 $125.00
Includes up to a 3 day rental (72Hours)
Gone Fishin' Carnival Game
Colorful, delightful, and cute describes this adorable new carnival game. Gone Fishin' appeals to young and old as they try to catch the Puffer Fish resting in the canvas. Each fish has a screw in it's nose and the magnet on the end of the fishing pole picks the fish up fast. The kids put the fishing pole in the canvas framed game, move the pole around, and hope to catch a fish by their magnet nose.
This game is super-cute and a great addition to any carnival event, school fund raiser, company picnic or any type of gathering or party!
Each Gone Fishin' game comes with 12 colorful Puffer Fish and a 4' Aluminum Fishing pole!