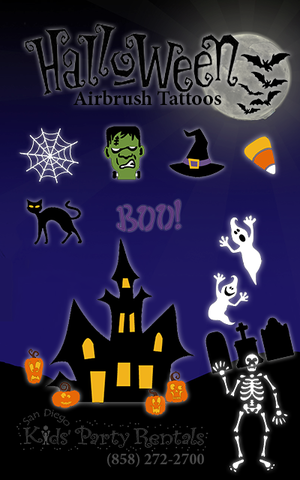 Halloween Airbrush Tattoo Artist
Halloween Themed Airbrush Tattoos
Your next Halloween party is full of ghoulishly good games and fun, so don't stop there! Choose from any of our 16 different custom made Halloween Themed Airbrush Tattoos, or choose a few to create a tattoo so good you'll be scared!
Trick-Or-Treat these frighteningly fun tattoos include 4 different Jack-O-Lanterns, the spooky Haunted House, 3 old Gravestones,the scary Black Cat, delicious Candy Corn, two ghastly Ghosts, the traditional BOO!, the spell bound Witch's Hat, the eerie Spiderweb, the friendly Skeleton, the mysterious Bats and your favorite Halloween man frightening Frankenstein!
The Halloween Airbrush Tattoos will last anywhere from 3-7 days so you can celebrate your event in style for all of Halloween weekend! They can be washed off earlier if you please. Adults and children alike will love the look of their new tattoos, which last longer than candy and are great for your health!