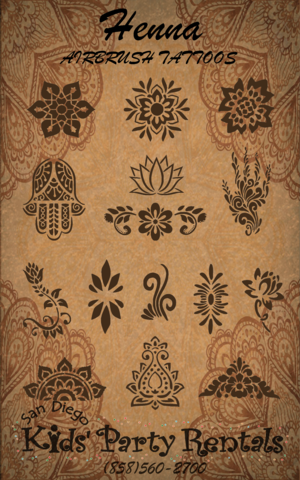 Henna Airbrush Tattoo Artist
Airbrush Tattoos have become the new party "standard" in face painting, and are great for events both, large and small, and for kids and adults of all ages.
Are you looking for something that provides that beautiful elegant look that Henna provides, but you want something that's a little bit fast and easier to take off? Our Henna Airbrush board gives the perfect balance of looking like of real henna with their elegant styles and designs, but also gives you the control of removing it whenever you like. Our airbrush tattoos can last for days, maybe even weeks, if properly cared for, but with a simple swipe from a baby wipe you can remove it in seconds.

There are fifteen stylish designs to choose from with this board. However, if you start feeling a little creative you put two or maybe even three designs together to make one beautiful piece of artwork.

The paint used for the Airbrush Tattoos is specially designed for temporary tattoos and is non-toxic and completely washable.