Hungry Hippo Carnival Game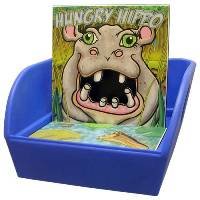 $50.00
Includes up to a 3 day rental
Hungry Hippo Beach Bag Toss Carnival Game
Emerging from the slow-flowing waters in Africa, this hippo is in search of food!
Players try to feed this hungry hippo by tossing bean bags into his wide open mouth. Younger children toss from a closer distance, while older players stand back for a more challenging experience. Winners can either be when a child gets a bean bag in the hippo's mouth, or having the most bean bags in among a group of competitors.
Carnival Game Includes: 4 bean bags , game boards, and child-size table for the base of the game.