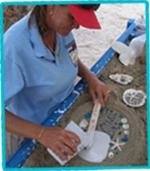 Magic Sand Art
For your next party or fundraiser, think inside the box-- the sandbox!
We'll set up our portable sandbox and treasure chest of sea shells and sea glass where all your guests can participate in making their very own, customized party favor and watch in amazement as it magically hardens into their selected shape. This sandbox will be a highlight of the event!
The Magical Sand Art is perfect for your next party, school or church fundraiser, company picnic, corporate team building initiative, or any type of beach-themed social function! It's also makes a great wedding favor and activity for the guests.
The Magical Sand Art is really easy and fun to do in just a few simple steps!


Step One: Choose Your Mold
We have a variety of molds from which to choose, including a star fish, heart, shell-- or, use your hand or foot as a customized and personal mold!

Step Two: Choose Your Shells & Sea Glass
You'll get to choose from our treasure chest of shells and colorful sea glass to adorn your selected sand art form.

Step Three: Design Your Imprint
Place your selected shells and sea glass where you want them in the mold for your own customized imprint! You may also want to add your name and/or date.
Step Four: Wait for your Masterpiece!
With our special, magic formula that we mix with the sand, your Sand Art will be ready and hard within 30 minutes and will be perfect as a party favor, special momento, holiday ornament, or gift.
We offer various models for fundraising events, so please call for prices and details to including the Magical Sand Art at your next function!

NOTE: We will need easy access to water for this party craft to mix the "Magic Mixture" that hardens into the Sand Art mold as well as convenient parking for the Attendants as they will be bringing heavy buckets of sand and a variety of tables and other props/gear.