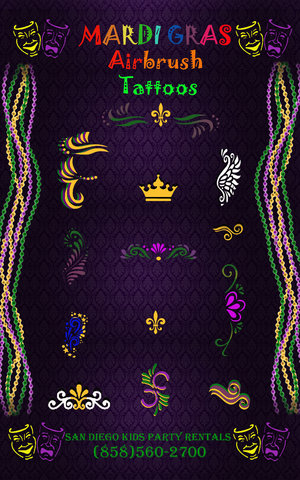 Mardi Gras Airbrush Tattoo Artist
Laissez Les Bons Temps Rouler
or in other words "let the good times roll."

Beads and bling, it's a Mardi Gras thing, and these airbrush tattoos provide all of that and more!
Mardi Gras is the party of parties, and with these crazy colorful tattoos, you can turn any event into the party to remember.

Airbrush Tattoos have become the new party "standard" in face painting, and are great for events both, large and small, and for kids and adults of all ages.
The multi-layered stenciling system ensures that each painting looks exactly as it does on the display board, and that every child gets just what they ask for.
Fast, clean, fun, this service is perfect for any event! Just make sure you plan for extra time-- the adults always want to jump in line, too!
The paint used for the Airbrush Tattoos is specially designed for temporary tattoos and is non-toxic and completely washable with soap and water. If cared for properly, the tattoos can last up to five days.