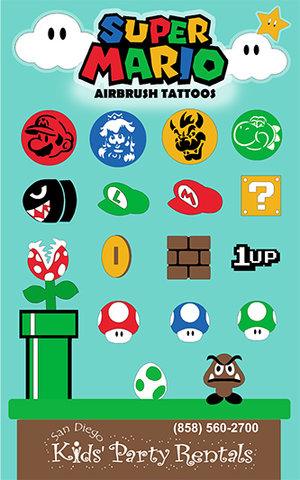 Mario Airbrush Tattoo Artist
Super Mario Airbrush Tattoos
We created these custom Super Mario Airbrush Tattoos in-house, and won't find them anywhere else! The airbrush tattoos are sprayed on to your party go-ers cheek or arms and, if properly cared for, can last up to five days!
Guests can choose to have any one (or more!) of the following designs:
Super Mario Logo
Mario
Luigi
Princess Peach
Koopa Troopa
Bullet
Lugi's Hat
Mario's Hat
Question Mark Block
Dangerous Flower
Coin
Brick Block
1-Up Extra Life
Green Plumbing Tube
Mushroom Heads (choose any color!)
Yoshi's Egg
Goomba
Super Star
....or even get the ground and the clouds for a complete Mario-scape!
Book online or call us at (858) 560-2700.