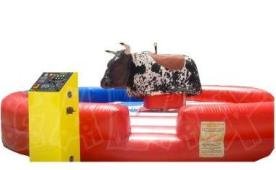 Mechanical Rodeo Bull
Actual Size: 15x15x4
Setup Area: 17x21x12
Outlets: 2




Mechanical Rodeo Bull - Giddeee-Up & Hold On!
All you City Slickers and little slickers -- now you can experience the thrill of an 8-second ride on what feels like a real bull, with real authentic cow hide and without having to wrangle it yourself! This is the best looking mechanical rodeo bull you can find and perfect for a Western Theme party or a cowboy or cowgirl themed event!
The black and white mechanical rodeo bull is designed with the latest technology to simulate real bull movements so whether you're training to be a professional Western bull rider, you're a 60-year old grandmother, or you're a 5-year old cowboy (minimum height of 48") --- you'll enjoy the Mechanical Rodeo Bull simulator ride!!
The Trained Staff can operate the Mechanical Bull at varying levels from beginner to expert so that it's fun for everyone and still in stable conditions. The control console has six auto pre-set programs that are linked to the LED digital time clocks. The six programs include Easy, Medium, Hard, Greenhorn (competition for beginners), Cowboy (competition for experts), and a manual joy stick for precision control! The Mechanical Bull has LED flashing eyes, Sofolex horns and head (it looks like hard fiberglass, but is really a patented soft material), Auto Stop System, a robust motion base with full 360-degree spin and buck motion. The Mechanical Bull is surrounded by an inflatable cushion with 4-foot walls that are in the stars and stripe theme and provide a soft landing area when the bull starts to win the fight! Add this to your next Western, Cowboy, Cowgirl theme party or event, carnival, festival, birthday party or street fair!
The rental price includes one trained Control Console Operator. Delivery fees may apply.
Requirements:
* Level ground and a 17' x 21' footprint
* No overhead obstructions up to 12' high
* 2 electrical outlets on different circuits (1 for the control panel & the other to inflate the air cushion)
* Location within 30 feet of electrical outlets
* 1 to 2 volunteers to assist the Operator during large events
* Riders must be a minimum of 48" tall
San Diego Kids' Party Rentals, Inc. is fully insured and can list your company or organization as additionally insured on our policy upon request.
Pricing: Mechanical Bull comes with an trained staff attendant and a minimum 3 hour rental period for $975.00. After that each additional hour is $250.