Photo Booth With Social Media Capabilities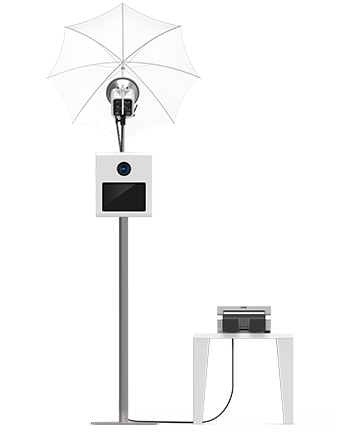 Setup Area: 6'L x 3'W x 90"H
Actual Size: 2'L x 3'W x 88"H
Photo Booth- Social Media and Printer Compatible
San Diego Kids Party Rentals photo booth with social media capabilities is extremely user-friendly, interactive, and a blast for your guest at any event.. The guest at your event will stand in front of the interactive screen and touch the computer screen to start. A countdown will give them plenty of time to look at the monitor, see themselves, and get their photo face ready. The rental of the photo booth does come with a technician who will make sure the unit is operating properly, but your guest will have a blast taking and operating the photo screen by themselves. The photo booth with social media capabilities rental is perfect for any type of memorable occasion; birthdays, anniversaries, carnivals, weddings, reunions, company holiday parties, proms, graduations, trade shows/expos- you name it!
Your guests will be able to take home printed 4x6 photo cards and/or have the option to post their photos on social media, or email directly to themselves. San Diego Kids Party Rentals can send you out a master drive with all the photos taken after your event if you wish (but please let us know prior to the event so we can set it up accordingly). The rental unit also allows you to create animated GIFs of your photos that can also be shared on social media!
The Photo Booth can be set up indoors or outdoors. San Diego Kids Party Rentals will bring a canopy for covering if you opt to use the rental outdoors in the sun. We will also bring a back drop, but if your event is indoors, using a wall or a natural background makes for great photos. The technician will help you make the best choice possible, but great ideas for back grounds include Christmas Trees, wedding alters, company signs or logos, and just about anything else you can imagine. The photo booth would need to be set up about 6-9 feet away from where your guest will be standing and since there is not a crowded box, you can fit as many people in the photo as you can fit in the camera screen.
Customized logo and layout (+$75)- Customize the photo booth to include your company, school or team logo on each photo. Or you can include a special saying or title to commemorate a wedding, birthday party, anniversary or reunion! If you select this add-on you will need to send us the logo or saying before the event- that way we can program it into the photo booth ahead of time so when we show up to your event it'll be ready to go!
Prop Box (+$25)- Liven up your photos by including our prop box with the photo booth! Guests can choose from an assortment of fun and colorful props to include in their photos.
Green Screen Backdrop (+$50)- We can pre-make different backdrops that your guests can choose to pose in front of during your event. Or you can send over your own backdrop template that we can use with the green screen.
Quesitons? Call us at (858) 560-2700