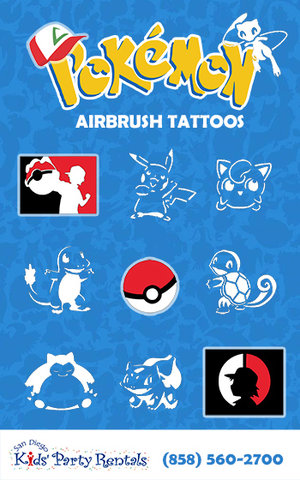 Pokemon Airbrush Tattoo Artist
Gotta catch 'em all with our Pokemon themed Airbrush Artist!
Stencils include popular Pokemon characters such as Pikachu, Squirtle, Charmander, Bulbasaur, Snorlax, Jiggly Puff, and Mew. Also included in the stencil set is a poke ball, Ash's iconic hat, and a few fun silhouette images.
All of our custom Pokemon stencils were created in-house and you won't find them anywhere else!
The airbrushed tattoos will last approximately 3-7 days unless you choose to wash them off sooner. To clean, gently rub soap and water over tattoo until it begins to come off, and wipe away!