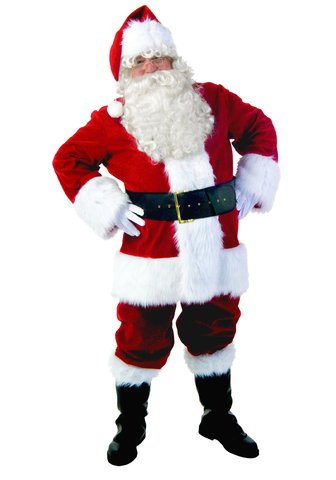 Santa Claus - Traditional
Santa Claus Holiday Party Entertainer in San Diego
** Traditional Beard Santa **
Our realistic Traditional Beard Santa Claus holiday party entertainer will make a grand entrance to the delight of all your party-goers! The Santa performance can be tailored to your specific desires, but typically may include having the kids sit on his Santa's lap to tell him what they want for Christmas, pose for holiday photos with Santa, hand out candy canes, and if time permits Santa Claus will lead the singing of Christmas carols or read "Twas the Night Before Christmas". Our Santa Claus performers are trained professionals, many of whom have decades of experience or who are year-round child entertainers. We represent both real-beard Santas and traditional beard Santas who are sure to be a hit at your next Christmas party or holiday event in San Diego!

For Christmas Eve Santa performances, an additional fee will apply.
Call Today to Reserve Santa Claus for Your Holiday Party!
Some Feedback on our Santa Performers
"Everything was perfect with Santa Brad. Cate was wonderful to work with and I have already recommended your company to many of the residents who complemented me on my Santa choice. Thank you for helping to make my event so special."
"Santa exceeded my expectations, and I also appreciate your and his communication/confirmation efforts. I don't expect good communication from anyone anymore, so it's nice to experience a company and individual or understand and implement this important aspect of running a business. Please save his name for me for next year."
"Santa was a hit, especially with the children, and was very accommodating re taking photos w/children and family members, singing and even putting on a short skit w several of the children! The photographer, Ronnie Revoredo, was also very accommodating with the photo shoots. The kids loved him.. Both Santa and the photographer acted in a very professional manner and I did not need to supervise or instruct them in any way. They also appeared to work together very well. Thank you, Cate, for your assistance and recommendations with this company event. It was a pleasure doing business with you and I will definitely contact you regarding future company events."
"The Santa we had was better than expected--I would definitely request him in the future."