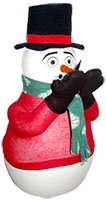 Snowman Snow Machine
Snowman Snow Machine
Set the scene this winter with our adorable Snowman Snow Machine. This portable Snowman blows out simulated snowflakes creating a blizzard effect to make it look like it's really snowing in San Diego! You can use him at the entrance of your holiday party, in photos with Santa, on your back porch or patio, or for any event that you want to look snowy.
The snowman can blow the snow up to 30' high and 15'-20' around. Though it looks like real snow, the "snow" is actually a foamy substance that evaporates within 2 minutes.
Our Snowman Snow Machine holds 2 liters of special snow fluid that gives the effect of real snow without causing harm or damage to surrounding surfaces. He requires 10amp, 110V circuit to power him and can be used indoors or outdoors. The rental includes 1 gallon of solution which can last up to 1 hour of continuous use.