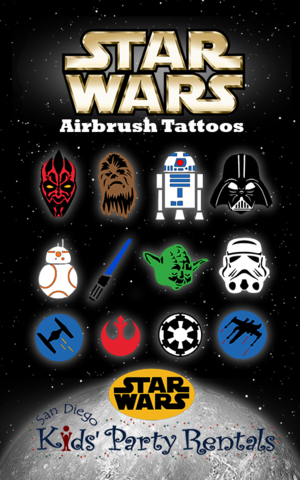 Star Wars Airbrush Tattoo Artist
Star Wars Themed Airbrush Tattoos
Throw an out of this world Star Wars party with the help of our brand new entertainment option- Star Wars Themed Airbrush Tattoos! We've created a special airbrush system that allows our talented artists to create beautiful artwork of the most popular Star Wars characters on your child's arm or cheek.
Upon arrival, have your guests choose which alliance they would like to join. Will they join the Dark Side or the Rebel Alliance? The airbrush artist will spray the chosen emblem on the young jedi's cheek or arm. If you plan to lead Star Wars themed games at your event, this makes for a great way to split up your guests into two rival teams!
Stencils include Yoda, Chewbaca, Darth Vader, Darth Maul, R2D2, BB8, Storm Troopers, light sabers (you choose the color!), various space ships, the Imperial Emblem, the Rebel Alliance Emblem, and of course, the iconic Star Wars logo. All of our custom Star Wars stencils were created in-house and you won't find them anywhere else!
The airbrushed tattoos will last approximately 3-7 days unless you choose to wash them off sooner. To clean, gently rub soap and water over tattoo until it begins to come off, and wipe away!
You may also consider hiring our Jedi Knight and/or Darth Knight to make a special guest appearance at your event!
May the force be with you and your party planning!