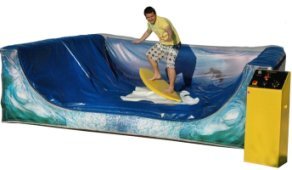 Surfing Simulator
Actual Size: 16' L x 16'W x 8'H
Setup Area: 18'L x 21'W x 12'H




Mechanical Surfing Simulator Ride
Surfing is a great sport -- so, why should it be confined to just the water and on the coast? Bring surfing to your event by renting the Mechanical Surfing Interactive Ride! The Robo Surf will be the hit of your event - especially as everyone watches the imminent wipeout on the imaginary waves!
Kids of all ages will love this Surf Rider surfing simulation ride! The mechanical wakeboard or surfboard simulator moves forward, backward, and side-to-side to replicate the feeling of riding the waves! Surfers and riders get to test their balance, without even getting wet!
The "Tube-like" inflatable cushion with the big wave graphics will add to any beach themed party or just a fun day in the sun! It can be used both indoors and outdoors and just requires a flat, open space and access to electrical power.
The Mechanical Surfing Interactive Ride is rented by the hour (3 hour minimum) with a trained Attendant who will operate the Robo Surf controls. The surf simulator can be set to different levels of difficulty with an easy mode for younger kids and beginners all the way up to BIG WAVE WIPEOUTS! The Surf Simulation Ride is The rental price includes 1 trained Console Operator.

Requirements:
* Level ground and a 18' x 21' footprint
* No overhead obstructions up to 12' high
* 2 electrical outlets on different circuits (1 for control panel & 1 for blower to inflate the air cushion)
* Location within 30-feet of electrical outlets
* 1 to 2 volunteers to assist the Operator during large events
Online Bookings: If you choose to order on-line, please complete the Details section below and specify the desired duration and start time that you would like to have the Mechanical Surfing Simulation Ride at your party and any flexibility you have with the schedule. We will do our best to accommodate your desired time and are usually quite successful in meeting customer's needs. However, exact times can't be guaranteed via the on-line booking process. We will follow-up with you via email or phone within 24 hours of your booking to confirm and/or finalize the booking and delivery details.
San Diego Kids' Party Rentals is fully insured and can list your company or venue as additionally insured on our policy upon request.


Pricing: Surf Simulator comes with a trained SDKPR attendant and a minimum 3 hour rental period for $775.00. After that each additional hour is $250.