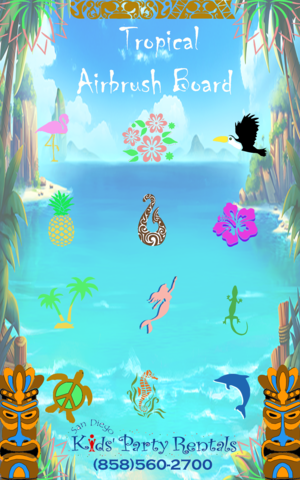 Tropical Airbrush Tattoo Artist
Airbrush Tattoos have become the new party standard in face painting, and are great for events both, large and small, and for kids and adults of all ages.
Sit back and enjoy the cool breeze with this Tropical Airbrush board. This board is perfect for a luau themed party or any type of summer event. This board comes with a fanatic tribal print stencil that you can wrap all the way around an arm or leg. It also has plenty of fun wacky stencil like tiki totem, pineapple, mermaids, dolphins, and more!!! With this colorful board any party will quickly turn into a beautiful sunny day.
The paint used for the Airbrush Tattoos is specially designed for temporary tattoos and is non-toxic and completely washable with soap and water. If cared for properly, the tattoos can last up to five days.