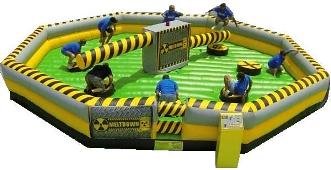 Wipeout Interactive
Setup Area: 32' x 34' - but need to allocate space around all sides




Wipeout 8-Player Interactive Action Game
Perfect for Large-Scale Events, Festivals & Fundraisers for Kids & Adults
The Inflatable Wipeout Challenge is an 8-player action game, where the players have to either duck under or jump over the rotating arms. The arms are encased in 14" of high-density foam for added safety and rotates one way for 20 seconds then reverses every 20 seconds automatically and can be set at speeds from 1 to 10.
This is a fun team building game for corporate groups as well as a high-energy contest for the younger ones! It's fun to try to make the jump and duck before being toppled from the cushion pedestal, but almost equally fun to watch as others try to duck and jump!!

Pricing:
Wipeout comes with a trained SDKPR attendant and a minimum 3 hour rental period for $1050.00. Each additional hour is $250.