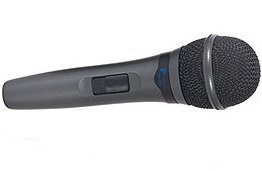 $25.00
Includes up to a 3 day rental
Wired Microphone with Digital Processing - NEW for 2013!
The Technical Pro Wired Microphone with Digital Processing captures the raw essence of recordings, achieves top level professional sound, and works in the toughest environments. It can be used for karaoke, recording vocals, recording instruments, broadcasting, or capturing the ambiance of a particular room or studio.
If you are addressing a room, if you are a DJ in a club, traveling from gig to gig and need to add a microphone to your set-up, make general announcements or even sing over your mixes, this microphone is an excellent choice as it is very durable and will always capture a full spectrum of frequencies. The microphone is on axis at all angles. It does not have to be positioned in one spot in order to achieve its full potential.
Use this with our portable wireless speaker
for outdoor locations where electrical power is not readily available.
This is a great luxury if you are moving around a lot or just need to pick up the microphone once in a while and do not want it on a microphone stand or another type of locked positioning. Included is a 10 foot XLR cable connected to the base of the microphone and set to be input into any standard XLR input.
Use the easy to move slider located on the front to turn it off and on throughout the night. The Microphone and Wireless speaker are a great tool for any studio or live sound set up.
Impedance: 600 ohms
Sensitivity: -72dB