Wireless Portable Speaker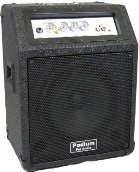 $45.00
Includes up to a 3 day rental
Portable Wireless Speaker
Podium Pro Audio wireless powered portable speaker. This speaker can operate without any cords or cables. The rechargeable battery delivers 8 to 12 hours of continual playtime, or it can be plugged into any regular electrical outlet.
Just save your playlist or effects on any USB Memory Device such as a flash drive (an iPod or smartphone needs a special adapter) and plug it into the USB port on the top of the unit. The LCD displays the song and track, skip forward or back, or choose to have your playlist loop, play randomly, or continuously. The speaker reproduces a wide frequency response range of 40Hz to 20KHz creating a clear and full sound.
The front control panel includes a 1/4" input jack for an instrument or microphone, overdrive and volume controls, treble/bass equalization control, CD Input, and an LED screen to indicate power on/off.
The USB port at the top of the speaker also has LCD display and standard function buttons of forward/reverse/play, stop.
The control panel on the rear of the speaker features an LED indicator of the battery level with red and green lighting, connection for headphones, On/Off power switch, fuse holder/voltage selector (1A for 110V and 500mA for 220V), and place to plug-in the power cord to run the amplifier from a standard electric outlet.
Do not expose the speaker to rain or moisture and it must be earth grounded.
If you plan to use this with an iPod or iPhone, please ask for the stereo-in adapter cord to be included with your rental.
NOTE: a replacement fuse is located under the cover above the AC plug.