16' Inflatable Outdoor Movie Screen & Projector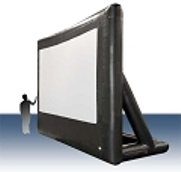 Actual Size: 21Lx18Hx7.6W
Outlets: 1
Inflatable 16-Foot Outdoor Movie Screen, Audio & Projector Rentals!!
Powerful Sound, Superior Image! Magically Bringing Movies to You!
Giant Portable Outdoor Inflatable Movie Screen with Blockbuster Sound & Video
This high-quality 16' Inflatable Outdoor Movie Screen inflates in under a minute and has the flexibility to accommodate either front-projection or rear projection. The movie screen has a lightweight frame so that it is free-standing and allows theatre-quality movie projection. The 21' x 18' inflatable screen provides 16' of movie viewing space and comfortably fits audiences of up to 300 people, or 400 people if they are sitting in closely arranged chairs.
By hosting your own Outdoor Movie Night -- you'll provide an incredible experience for guests in your backyard, community parks and recreation areas, homeowner association clubhouse lawns, military bases, school yards, sporting team playing fields, church grounds, or even in the neighborhood cul de sac. Everyone loves going to the movies and will love that you're bringing the movies to them! Outdoor Movie Fun for the entire family!
Remember: Popcorn Goes Great with Movies!
The Portable Movie Cinema Rental Comes with the Following Items:
18' H x 21' W x 7' 6" Deep. Front/rear projection inflatable screen with white projection surface
Air blower in a specialized "muffling" box to ensure a quiest viewing experience
Custom-built "Cinema Box" for safe handling of the Audio-Visual Equipment
Sanyo projector - 3000 Lumens
DVD Player with preview screen
Multi-Channel Audio Mixer - with inputs for microphone and stereo lines
Professional wireless microphone for pre and post-movie announcements
2, Active 12" bi-amplified, 400 watt, Mackie stereo speakers
2 professional speaker stands for wider sound dispersion
Speaker cables and power cables
Movie Attendant who will set-up, operate the equipment, and take-down the portable outdoor movie cinema
Host Your Own
"Dive-In" Movie
with movies by the Pool!
It's a great way to spend a summer evening in the back yard -- or, plan an indoor Dive-In Movie Night at your school, YMCA, or recreation center!
You Simply Bring the Movie and Guests, We'll Bring the Rest!
Rentals are based on up to a 3-hour movie length. If you plan to show a "Double-Header" Movie Night, we can extend the duration of time that the Movie Attendant will be on-site for an additional charge. For on-line bookings, please select the appropriate duration below.
This portable outdoor movie screen and audio-visual system can also be used for video games, presentations (connects to a laptop for PowerPoint or other presentation software), NFL football parties by connecting to a T.V. (consider the lighting and time of day of the game), or Music Videos for Dance Parties.
Relatively open area that is flat or slightly sloping and big enough to accommodate the movie screen, projector and movie viewers
Access to electrical outlet or generator within 100 feet of the projector and screen set-up location.
All sprinkler systems must be turned-off prior to the start of the movie and remain off until

after

equipment take-down. A dry lawn is preferable for the viewers on blankets.
No overhead obstructions near the screen (trees, telephone/cable wires, etc.)
You obtain the necessary permits and/or permission to use parks, recreation areas, club houses, etc. San Diego Kids' Party Rentals is fully insured and can list your venue as additionally insured on our policy if required. We are already listed with most San Diego parks and local community centers.
You select and provide the movie and adhere to any relevant licensing conditions. Typically licenses are not required for back-yard private movie showings, but they are required for any public showing. For details on obtaining licenses, go to

www.swank.com

or call them at 1-800-876-5577.
Swank.com has roughly 80 percent of all movie titles. Please call them at least 2-3 weeks before your event to ensure your permit.