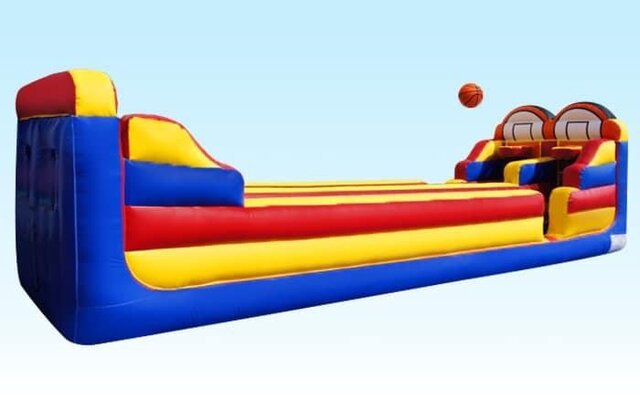 $495.00
Includes up to a 3 day rental (72Hours)
Setup Area: 42'L x 13'W x 14'H
Actual Size: 37.5' L x 11' W x 12' H
Bungee Basketball Fun Run
This two-lane, brightly colored interactive Bungee Run game is super fun and will surely be a favorite at your next event!
The participants wear a padded bungee harness with a bungee cord that is attached to the inflatable wall. The goal is to get as far from the inflatable wall as possible before getting snapped back to the inflatable wall by the bungee cord! Just before getting pulled back to the wall, place the velcro marker on the velcro strip that lines the inflatable wall between the two lanes to mark your distance from the wall. The one who has a marker the farthest from the wall is the winner!!! It's truly a test of strength and an amazing bungee ride without ever leaving the comfort of the inflatable cushions. This interactive game is not appropriate for very small children who may not fit comfortably in the bungee harness.
Requirements:
The set-up location for this inflatable Bungee Run must be relatively flat, large enough to accommodate the Bungee Run with at least 2 feet on all sides and clear of trees and overhead wires, within 100 feet of a standard electrical power source, and accessible via a minimum of a 3-foot wide space from the driveway/street. If you're planning to hold your event at a park or recreation area, you likely will need a generator to provide the power source and the appropriate permits.

""

San Diego Kids Party Rental, Inc. is listed as an "approved vendor" with the Parks and Recreation Department of the City of San Diego, Carlsbad, Coronado, Poway, San Marcos, Santee, the Port Authority, and other neighboring cities so that you can just list our company in the designated space on your special use permit application to expedite your permit process.
Click for
San Diego Park Information