Double Lane Giant Inflatable Slide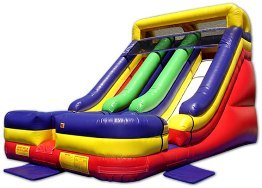 $575.00
Includes up to a 3 day rental (72Hours)
Setup Area: 30'L x 22'W x 19'H
Actual Size: 27' L x 19'6" W x 18' H
The impressive Double Lane Giant Slide is a dual lane dry slide guaranteed to add tons of excitement and acceleration to any indoor or outdoor event. With the extra capacity provided by featuring two sliding lanes, this is a great addition to any event or celebration with a large number of people.
This inflatable slide is great for promoting friendly competition or group challenges, kids can climb together up the center climb, and then choose a left- or right-sided slick slide, for a fast-track ride to the cushioned bottom with a safety stop. Hooded safety on top ensures riders slide down properly.
The bright and colorful red-purple-yellow-green design fits into any desired theme and brings a pop of color to any event!
Please note IF YOU ARE DOING YOUR RENTAL AT A PARK, you will need a generator and many parks require you to rent the generator from the same bounce house/inflatable rental company (check with your local park for details). San Diego Kids Party Rentals rents out generators and each inflatable will take one generator.
Every park will also require you to obtain a permit for an inflatable. Many of the parks have different permit fees and restrictions, so once again, please check with the local park for details. San Diego Kids Party Rentals can not obtain the permit for you.