Double Lane Giant Inflatable Slide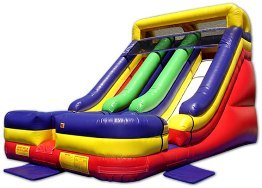 $495.00
Includes up to a 3 day rental
Setup Area: 30'L x 22'W x 19'H
Actual Size: 27' L x 19'6" W x 18' H
The impressive Double Lane Giant Slide is a dual lane dry slide guaranteed to add tons of excitement and acceleration to any indoor or outdoor event. With the extra capacity provided by featuring two sliding lanes, this is a great addition to any event or celebration with a large number of people.
This inflatable slide is great for promoting friendly competition or group challenges, kids can climb together up the center climb, and then choose a left- or right-sided slick slide, for a fast-track ride to the cushioned bottom with a safety stop. Hooded safety on top ensures riders slide down properly.
The bright and colorful red-purple-yellow-green design fits into any desired theme and brings a pop of color to any event!