Inflatable Human Whack-A-Mole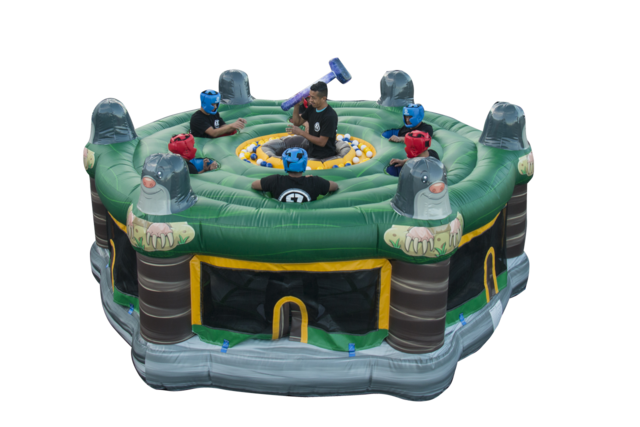 $350.00
Includes up to a 3 day rental (72Hours)
Setup Area: 17L x 17W x 9H
Actual Size: 14L x 14W x 6H
Inflatable Human Whack-A-Mole
Remember playing Whack-a-Mole when you were younger? Now's your chance to get some real revenge on those pesky little rodents! We've replaced the mallet with an inflatable hammer and replaced the moles with…..humans. Introducing, our brand new, Inflatable Human Whack-A-Mole Game!
Grab six of your friends and climb into the middle of the burrow with your hammer in tow, and protect your balls from the mole thieves! "Take that, mole! Back in your hole, little mole!"
Here's how it works: Seven people can play at a time. The person in the middle—let's call him the "Farmer"—is responsible for defending his crop, while the other six people play the part of the "moles". The moles must put on protective headgear and pop up to try and steal a single ball from the farmer's crop and return it to their home below. If hit, the mole must release the ball and cower back into his hole. Game play continues for three minutes—or until all of the balls have been stolen from the Farmer. The mole with the most balls wins!
Great for company bonding (….when else do you get to hit your boss with a mallet?), church and school carnivals, and private home parties, the inflatable Whack-a-Mole Challenge is sure bring you hours of bellowing laughter.

The Inflatable Human Whack-A-Mole requires access to power. If your set-up location is more than 100 feet away from an electrical outlet, you will also need to rent a generator to supply power to the inflatable. If you are expecting a large crowd, you may want to consider adding an attendant to facilitate game play. Pricing for an attendant for three hours is $150 with each additional hour at $50.