Milk Can Toss Carnival Game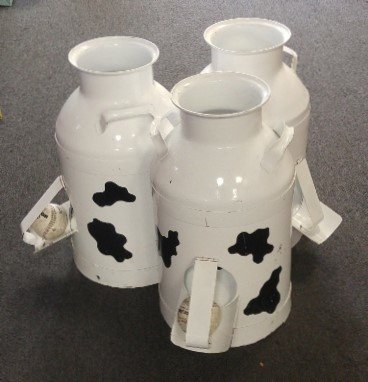 $75.00
Includes up to a 4 day rental
Milk Can Toss Carnival Game (for Customer Pick up)- Players try to toss the rubber covered softball into one of the three old fashioned milk cans with cute cow spot graphics -- if it gets in, they win a prize. Rental includes 3 milk cans and softballs.
This super cute Cow-Painted Milk Can Toss is a fun and traditional carnival game in which players try their skill at tossing a softball into the top of the milk can. The Milk Can Carnival Game has a unique exit ramp for the ball so that it is easy to retrieve when the players are successful in getting the ball into the milk can.
The Milk Can Toss can be made to be as hard or as easy as you would like. Have the participants closer to the milk cans for younger ages or further away to make the toss more challenging. Great for any school, corporate, or carnival event.
This would be a great game addition to any type of school or church carnival, festival, company picnic, birthday party of fundraiser! It could also be a themed addition to a Fall Harvest Festival or farm-themed party!