About San Diego Kids Party Rentals
San Diego Kids' Party Rentals, Inc. (SDKPR) is owned by husband and wife, Greg and Cate Knight, as a means to provide a great experience for parents planning parties for their children and party/event planners who work on large corporate events, school carnivals, street festivals, and/or charity fundraisers -- as well as Fun for the Kid in All of Us!

Joining Greg and Cate is a great group of people who work together as the delivery and event staff, office managers, and entertainers.
Jennifer Ellison
Sales & Marketing Manager
Jennie has worked with SDKPR from close to the beginning of our existence. She first started as a princess party entertainer and to date has performed at over 2,500 parties! Shortly after hiring Jennie, she was also offered a job as part of our office team after impressing SDKPR with her customer service skills and professionalism. Through her eight years at SDKPR, Jennie has greatly contributed to our company's growth and success. She knows the office like the back of her hand and is now expanding our marketing presence. A stellar entertainer, personable customer service rep, and passionate person-- if you've been a client with us, you're sure to have corresponded with Jennie.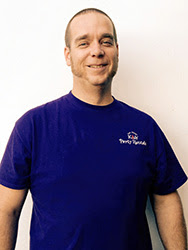 Chad Nichols
Delivery Mangaer
Chad's knowledge of automobiles and his ability to drive a truck and trailer first got him a job on our delivery staff in 2011. He worked on and off making deliveries, hosting events, and even doing some entertaiment until late August 2015 when he came on as Delivery Manager. Now he not only makes deliveries, but writes the schedule, oversees the delivery staff and leads trailer training for new drivers. Though he can still do airbrush tattoos and make balloons, his favorite thing at SDKPR is operating the Eurobungy.
Justin Tyre
Customer Service Specialist
Justin started with SDKPR in early 2015 after graduating San Diego State University. An east county native, Justin worked at the YMCA in various departments before coming to us. In our office, he processes orders, handles customer service correspondence and preps food supplies for events. Justin enjoys planning fun youth events and talking with our clients- his love for sports is sure to help you plan a great sports themed party!
Nick Patrick
Inventory Manager & Delivery
An Iowa native, Nick's passion for skateboarding brought him west to San Diego. It is through skating that Nick met Stu and first started working at SDKPR in 2012. Nick started on our delivery staff, and now manages our rentals and inventory. He maintains our inventory by checking that all games have the appropriate balls, putters and bean bags, and also cleans all our rental equipment to make sure it is "shinin" for your party. Book our Skate Simulator for your next event and maybe he can come show you some of his moves!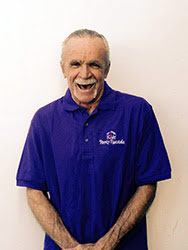 Steve Baldwin
Warehouse Manager
Steve has been with SDKPR since 2009. He spent his first two years on the delivery staff, then started using his knowledge and expertise to fix equipment that needed repairs. Two years ago Steve became our Warehouse and Maintenance Manager and has since learned the ins and outs of all of our equipment. He fixes, repairs, bolts, and patches any equipment that has partied too hard. "Stevie Baby" is our jack-of-all-trades who ensures all the rental equipment is ready to go and loaded in the right truck to get to your party. When he does get out of the warehouse, his favorite piece of equipment to operate is the Mechanical Bull.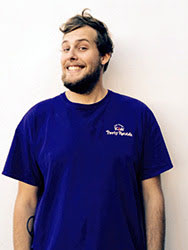 Alex Gillihan
Ast. Operations Manager
Alex started at SDKPR in 2009 on the delivery staff. During his time, he has proven to be a strong member of our team and, in early 2015, moved into the role of Delivery Manager. Now, in addition to making deliveries, he writes delivery schedules, pulls inflatables out of the racks, stages equipment to be loaded into trucks, and works a bit in the office. He is a master forklift driver and loves operating the Eurobungy. Next time you see him at your event ask him to juggle or beatbox- you're sure to be impressed!