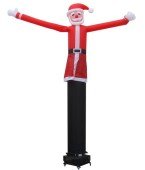 $75.00
Includes up to a 3 day rental (72Hours)
Actual Size: 12-Feet High
12-Foot Santa Claus Inflated Sky Dancer
Are you hosting a winter holiday party or event? If so, this 12-foot high dancing Santa Claus would be the perfect greeter to your guests!!! He's super cute and adds instant animation to your event while keeping with the Christmas holiday theme!
The Santa Claus Sky Dancer plugs into a blower and then moves based on the wind so that it looks like his arms are waving and sometimes that he's bending down to greet the guests!

If you don't have access to power, you will need to rent a generator to supply power to the inflatable unit.