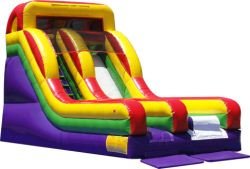 $375.00
Includes up to a 3 day rental (72Hours)
Setup Area: 27'L x 16'W x 16'H
Actual Size: 24' L x 13'8" W x 15' H
The 15' Single Lane Slide is guaranteed to add tons of excitement and acceleration to any indoor or outdoor event! Featuring a slide 15' in length, this inflatable is great for kids of all ages.
The bright and colorful red-purple-yellow-green theme fits into any decor, offers a thrill-filling day, and keeps the kids sliding. Children climb up a ladder on the left side of the inflatable and turn the corner for a fast-track ride to the cushioned bottom with a safety stop. Hooded safety on top makes sure riders slide down properly.
If you're planning to hold your party or event at a Park of Recreation Area, you likely will need to rent a generator to provide the power source and obtain a special use permit from the park. San Diego Kids' Party Rentals is listed as an "approved" vendor at most local parks and recreation areas in San Diego County. Each park or recreation area may have different requirements and/or limitations for inflatables and equipment, especially the larger size rentals, so please confirm the limitations prior to booking. Requirements: The Single Lane Slide set-up location must be relatively flat, large enough to accommodate the slide with at least 2 feet on all sides and clear of trees and overhead wires, within 100 feet of a standard electrical power source, and accessible via a minimum of a 4-foot wide space from the driveway/street.

Having your event at a park? Click here for information on park permits, rules, etc.
Please note IF YOU ARE DOING YOUR RENTAL AT A PARK, you will need a generator and many parks require you to rent the generator from the same bounce house/inflatable rental company (check with your local park for details). San Diego Kids Party Rentals rents out generators and each inflatable will take one generator.
Every park will also require you to obtain a permit for an inflatable. Many of the parks have different permit fees and restrictions, so once again, please check with the local park for details. San Diego Kids Party Rentals can not obtain the permit for you.