20' Inflatable Outdoor Movie Screen & Projector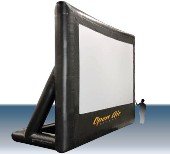 Actual Size: 27Wx21.5Hx8deep
Outlets: 1
20' Inflatable Outdoor Movie Screen & Projection
The Professional 20' x 11' Outdoor Movie Screen and Projection System is designed to comfortably accommodate 500 viewers. It's a favorite of resorts, Parks & Recreation Departments, Home Owner Associations, Military use, etc.

The 20-Foot inflatable outdoor movie screen is theatrical quality, yet lightweight and sturdy.The movie screen has a lightweight frame so that it is free-standing and allows theatre-quality movie projection. Most of the audio/visual movie projector components are conveniently installed pre-connected into a custom hardshell carrying case, which makes it easy for San Diego Kids' Party Rentals to operate a brilliant-looking and rich-sounding outdoor movie cinema.
The inflatable screen provides 23' of movie viewing space (measured diagonally) and comfortably fits audiences of up to 500 people on blankets, 1,000 in closely arranged chairs, or 3,000 if they are standing together.
The Portable Movie Cinema Rental Comes with the Following Items:
Full System Dimensions: 21.5' H x 27' W x 8' Deep. (includes inflatable black frame and stand)
Front/rear projection inflatable screen with white, wide-screen 16:9 aspect ration, projection surface
Air blower in a specialized "muffling" box to ensure a quiet viewing experience
Custom-built "Cinema Box" for safe handling of the Audio-Visual Equipment
Optomoa 3400 Lumen Projector with HDMI & 3D
Wireless HD Gaming Console with DVD or BluRay Player and preview screen
Multi-Channel Audio Mixer - with inputs for microphone and stereo lines
Professional wireless microphone for pre and post-movie announcements
2 Mackie SRM 350v2 Profession 10' Stereo Speakers
2 professional speaker stands for wider sound dispersion
Speaker cables and power cables
8 tethers to stabilize the screen against the wind. The screen is wind rated for up to 30 mph
Movie Attendant who will set-up, operate the equipment, and take-down the large, portable movie cinema
You Simply Bring the Movie and Guests, We'll Bring the Rest!
Rentals are based on up to a 3-hour movie length. If you plan to show a "Double-Header" Movie Night, we can extend the duration of time that the Movie Attendant will be on-site for an additional charge. For on-line bookings, please select the appropriate duration below.
This portable screen and audio-visual system can also be used for video games, presentations (connects to a laptop for PowerPoint or other presentation software), NFL football parties by connecting to a T.V. (consider the lighting and time of day of the game), or Music Videos for Dance Parties.
Movies are Great for Theme Parties!!!
Just pair a movie with other movie-themed character entertainers, bounce houses, and decorations and it's so much more than just a movie night -- it's a movie-palooza!!!
REQUIREMENTS:
Relatively open area that is flat or slightly sloping and big enough to accommodate the screen, projector and movie viewers
Access to electrical outlet or generator within 100 feet of the projector and screen set-up location.
All sprinkler systems must be turned-off prior to the start of the movie and remain off until

after

equipment take-down. A dry lawn is preferable for the viewers on blankets.
No overhead obstructions near the screen (trees, telephone/cable wires, etc.)
You obtain the necessary permits and/or permission to use parks, recreation areas, club houses, etc. San Diego Kids' Party Rentals is fully insured and can list your venue as additionally insured on our policy if required. We are already listed with most San Diego parks and local community centers.
You select and provide the movie and adhere to any relevant licensing conditions. Typically licenses are not required for back-yard private movie showings, but they are required for any public showing. For details on obtaining licenses, go to

www.swank.com

or call them at 1-800-876-5577.
Swank.com has roughly 80 percent of all movie titles. Please call them at least 2-3 weeks before your event to ensure your permit.