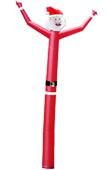 $90.00
Includes up to a 3 day rental (72Hours)
Actual Size: 20-Feet High
20-Foot Santa SkyDancer
The Santa Claus sky dancer air puppet is 20 feet tall with wide flowing arms and a digitally printed super-cute Santa Claus face. This Santa Sky Dancer will be perfect at your next Christmas or holiday party for added animation, to signify the party location, or just to provide a cheery welcome to your guests!!
The Santa Claus Sky Dancer comes with an internal light fixture and powerful blower that fits around the 18-inch diameter of the Santa Claus air puppet to ensure that Santa stay upright and waving to your party guests!
The Santa Claus sky dancer must have access to electrical power or a generator.