27' Cliff Hanger Inflatable Slide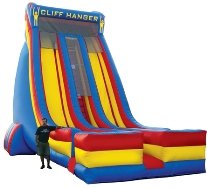 $900.00
Includes up to a 3 day rental (72Hours)
Setup Area: 36'L x 22'W x 28'H
Actual Size: 33'L X 20'W X 27' H
Outlets: 2
The Giant 27' Cliff Hanger Inflatable Slide
The Giant 27' Cliff Hanger Slide is San Diego's biggest and baddest inflatable slide available for rental! Standing almost three stories tall, this particular two-lane slide is great for kids and adults young at heart. Participants climb up the middle ladder to the top of the inflatable and grab onto the rings atop the left or right slide. Once the adrenaline settles, participants let go of the rings, dropping them almost straight-down the 27' steep slide. Participants then exit on the corresponding exits on either side of the inflatable.
Please note this particular inflatable does have a height requirement-- participants must be 52" or taller.The 27' Cliff Hanger Slide is great for company picnics, church events, grad nights, and school carnivals. Due to the size of this inflatable, it is not recommended for home events. However, it can be rented for private home events if there is sufficient space. Kids should always be monitored when using this inflatable.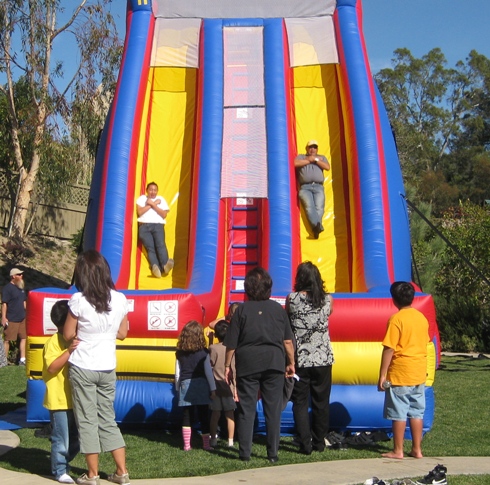 Please note IF YOU ARE DOING YOUR RENTAL AT A PARK, you will need a generator and many parks require you to rent the generator from the same bounce house/inflatable rental company (check with your local park for details). San Diego Kids Party Rentals rents out generators and each inflatable will take one generator. The giant Cliff Hanger slide will require two generators.
Every park will also require you to obtain a permit for an inflatable. Many of the parks have different permit fees and restrictions, so once again, please check with the local park for details. San Diego Kids Party Rentals can not obtain the permit for you.