9' Inflatable Movie Screen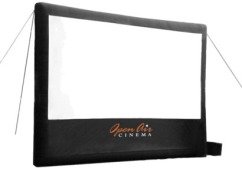 Actual Size: 10.5' x 8.3' Screen Frame
9' Inflatable Movie & Projection System
Movies under the Stars in your own Backyard!
This is the perfect backyard-size movie screen! The freestanding screen area is 9' x 5' with a 123" diagonal projection surface and 16:9 aspect ration. The inflatable movie screen is designed to provide optimum tension for the projection surface without the work of tying, clipping, or zipping on a projection surface.
This portable screen and audio-visual system can also be used for video games, presentations (connects to a laptop for PowerPoint or other presentation software), NFL football parties by connecting to a T.V. (consider the lighting and time of day of the game), or Music Videos for Dance Parties.
The Portable Movie Cinema Rental Includes:
- 8.3' H x 10.5' W Screen Frame with 123" diagonal wide screen
- Inflatable screen with matte white projection surface
- Air blower in a specialized "muffling" box to ensure a quiet viewing experience
- Custom-built "Cinema Box" for safe handling of the Audio-Visual Equipment
- Sanyo projector - 3000 Lumens
- DVD Player with preview screen
- Multi-Channel Audio Mixer - with inputs for microphone and stereo lines
- Professional wireless microphone for pre and post-movie announcements
- 2, Active 12" bi-amplified, 400 watt, Mackie stereo speakers
- 2 professional speaker stands for wider sound dispersion
- Speaker cables and power cable
Relatively open area that is flat or slightly sloping and big enough to accommodate the screen, projector and movie viewers (up to 50 viewers)
Access to electrical outlet or generator within 100 feet of the projector and screen set-up location.
All

sprinkler systems

must be turned-off

prior to the start of the movie and remain off until

after

equipment take-down. A dry lawn is preferable for the viewers on blankets.
No overhead obstructions near the screen (trees, telephone/cable wires, etc.)

You select and provide the movie and adhere to any relevant licensing conditions. Typically licenses are not required for back-yard private movie showings, but they are required for any public showing. For details on obtaining licenses, go to swank.com or call them at 1-800-876-5577.

NOTE: THIS UNIT IS NOT AVAILABLE FOR DELIVERY ORDERS AND IS ONLY AVAILABLE FOR CUSTOMER PICK UP ORDERS.