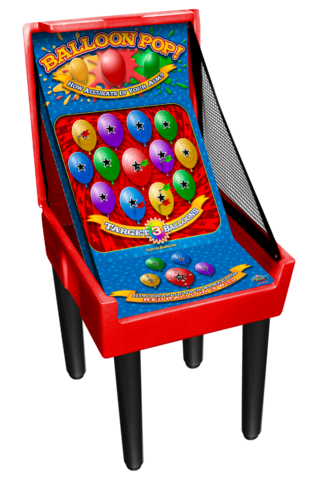 $75.00
Includes up to a 3 day rental (72Hours)
Setup Area: 24" Width x 30 deep x 45" tall
Balloon Pop Carnival Game
With the new improved Balloon Pop carnival games they toss a flat magnetic dart towards the game and land it on the painted balloon. The closer to the center, the greater the score.
The Balloon Pop Carnival Game is an update of the old classic balloon pop game where kids through sharp darts to pop a balloon. Who know, but it turns out kids throwing sharp pointed darts was not a good idea. What is a good idea is to see how much fun your kids will have at their party or carnival playing this game.
The Balloon Pop carnival game is very easy to move around and has detachable legs that let you set it up pretty much anywhere. These types of games are perfect for the preschool to 7 year old range and make great attractions at any carnival themed birthday party. Want to save money on renting the The Balloon Pop carnival game? Opt to come pick up the game at our warehouse and not only willl you save money on the price, but picking up and returning to San Diego Kids Party Rentals will not fall under any minimum order or delivery fees. Visit the The Balloon Pop for customer pick up.
Start your party planning today and rent the Balloon Pop carnivnal game today.