Bust One - Dartless Balloon Pop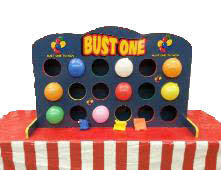 $95.00
Includes up to a 4 day rental
Dartless Balloon Pop Carnival Game (for customer pick up)
The traditional dart throwing Balloon Pop game has been a favorite at carnivals for years -- but, this new and improved "Bust one -Dartless" Balloon Pop carnival game is even better without the worry of having kids throwing potentially dangerous darts.
The Bust One -Balloon Pop rack is set-up with small "push-pin" type of tacks (see photo to the left) extending out from behind the rack, pointing directly where the balloons are set. The players throw bean bags at the balloons, and with the same concept -- if they hit the balloon and pop it, they win!!! This Dartless Balloon Pop is a great adaptation for kids of all ages and perfect for school carnivals or church fundraisers.
Please note the Bust One - Dartless Balloon Pop Carnival Game

does not include balloons

. The unit holds eighteen 9" balloons when full. We recommend purchasing 50-75 balloons per hour for the duration of your event.