Childrens Adjustable Height Table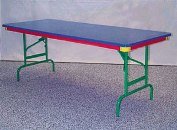 $15.00
Includes up to a 3 day rental (72Hours)
Children's Adjustable Tables
These sturdy childrens adjustable height kids tables provide enough space for 6-8 kids to enjoy their party activities! You can fit 3 kids on either side of the table and put one on each end. The height of the table can be lowered to 22" tall.
The Children's Adjustable Height Tables are royal blue and can be used with or without a table cover (not provided). Match your party theme with a traditional 6' rectangular table cover and fold it under or cut off the ends to fit this shorter table size.

Suggested for kids up to age 6. For kids 7 and older, we recommend renting adult sized tables and chairs.