Chocolate Fountain for Customer Pick Up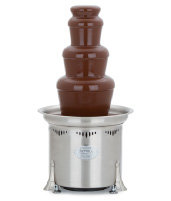 $95.00
Includes up to a 4 day rental
Chocolate Fountain for Customer Pick Up
With opting to come pick up the Chocolate Fountain at our warehouse you are saving money on the price and not subject to any minimum orders or delivery fees. The Chocolate Fountain will fit in most all vehicles but especially any suv's or vehicles with a hatch back.
The Chocolate Fountain serves 70+ people and is super easy to use! Just take a 2 pound bag of Belgian chocolate fondue chips and pour them into the base of the fountain and within 20 minutes they'll be melted and you'll have your chocolate fountain up and running! This great design eliminates the need to melt the chocolate in a microwave or to add any messy oil or other additives -- just pour it in for a no-mess, no fuss chocolate fountain! Then, just add more chocolate once the first bag is melted. The chocolate fountain requires 5 pounds of chocolate and can use up to 7 pounds of chocolate at a time. If you're serving more than 70 people, then just add more of the specialty chocolate fondue chips to the fountain and within a few rotations through the fountain, they'll melt with the rest of the chocolate.
Please note - with so many chocolate choices San Diego Kids Party Rentals does NOT include chocolate with the rental.
Smart and Final carries Sephra melting chocolate-- that's what you'll need!
A great way to use the chocolate fountain is to put the dippers on a wooden barbecue skewer or the more fancy sword-type skewers. Some favorite dippers include:
* Strawberries
* Marshmallows
* Pretzels
* Bananas
* Graham Crackers
* Pineapple
* Dried Apricots
* Rice Krispies Treats
* Butter Cookies
* Brownie Bits
The chocolate fountain is stainless steel, has electronic temperature controls, has electrical and sanitation certification, and comes with a specially made heavy duty carrying case.
What's included:
* 23" Chocolate Fountain
* Heavy Duty Carrying Case