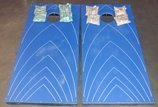 Cornhole
Cornhole has quickly become a favorite party and picnic game for both kids and adults.

To play, set the boxes approximately 30 feet apart. You can play one on one or with teams of two. Each team will have 4 bean bags to try and make into the opposite box. Make the bean bag in the opposite box for 3 points or make the bean bag land on the box for 1 point. First player or team to 21 points wins.
The Corn Hole game comes ready to play with two boxes and eight heavy duty bean bags (four of each color). With the folding legs the corn hole game is easy and light enough to carry and around while keeping it strong and sturdy base.