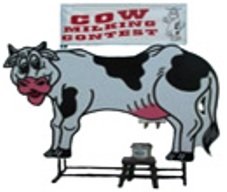 Cow Milking Carnival Contest Game
Challengers step up to "Ol' Bessie" and do their best to out-milk each other.
Cow milking competitions have been an attraction at fairs and festivals for years. Now it can be enjoyed without the hassle of a live cow! Both country folk and city-slickers will have lots of fun with Cow Milking Contest. It can be played by one person using a timer or two contestants in a "hand to hand" competition.
Cow Milking Contest Carnival Game Includes:
Cow with Udders & Contest Banner

Fake "Milk" (made with non-toxic white food dye)

Buckets

Child-Sized Stool