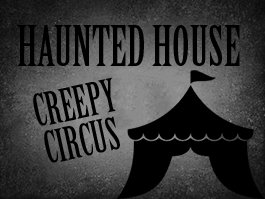 Creepy Circus Haunted House




Please call to reserve this item

Creepy Circus Haunted House


Step right up for the best show in town! The bright blue and yellow stripes on this 10'x20' World's Greatest Circus Tent warmly welcomes your guests to the circus.
But this isn't any circus....it's the circus of your nightmares! Posters and wall hangings of a juggler, ringmaster, muscle man, and a two-headed lady line the walls as creepy circus music and market lights bring the tent to life. As you enter the tent, you'll have to navigate your way through hanging bowling and question reality when you look into the distorted fun house mirrors. A circus wouldn't be complete without clowns, and there are no shortage of them in this haunted circus! Wacko the clown will greet you by slowly swaying side to side and giving you the side-eye. Turn the corner and you'll see an adorable over-sized building block. Just when you start to question the placement of this adorable over-sized building block, (or when you break the sensor beam), the lid of the box quickly flips open and out pops an even scarier clown. BOO!
What's included in the Creepy Circus Haunted House Rental?
We designed these custom portable Haunted Houses in-house and you won't find them anywhere else! The Creepy Circus haunted house is priced for 3 hours and comes fully loaded with animatronic clown props, light-up wall hangings, market lights, themed music, and professionally made haunt props.
Is the Creepy Circus Appropriate for All Ages?
We suggest scaring kiddos age 6 and older for this one. The hanging bowling pins do have (fake) blood on them and could be scary to the younger kids, but other than that-- it's just a bunch of pop-ups and "boo" moments. If they adore clowns, this may not be their jam.